Adopt A Pot Program
Several business around town have sponsored a pot of flowers to brighten up their neighborhood.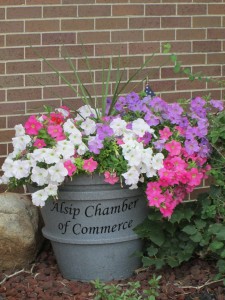 Sponsors contribute each year to cover the cost of flowers, and local scout troops plant the pots each year.  The business is then responsible for watering and tending. This pot at the front door of the Alsip Village Hall Sponsored by the Chamber, was one of the most beautiful ones this year.  So now that the  snow and ice have melted, here's a reminder that Spring  is on the way.  If you are interested in sponsoring a pot at your location, contact the Chamber.
If you would like to sponsor a pot at your location, or at another spot in town, the initial pot purchase, with your name on it and the first year's planting is $185.00.  This pot pictured, is heavy duty, guaranteed 20 years & meant to last all weather conditions.  Contact the Chamber at 708-597-2668 to make arrangements to order pots.  You can order pots for yourself, or one of your good customers, clients, or just a thank you to a business, with their name on it.